Dear users:

Relax and earn with ease while trading futures on CoinW in the next 11 days!

For the duration of Labor Day event:
1. Share the event poster
2. Invite friends to open a futures trading account on CoinW Exchange
And stand a chance to get airdrop of up to 320USDT bonus reward.


Terms & Condition:
1. Invitation bonus details:
Invite a friend to open a futures account and complete a futures trading (any trading pair with any amount), you will receive a 30USDT bonus. A single person can enjoy a cumulative 300USDT invitation bonus.

2. New User Benefits:
During the event, any new user who opens a futures account and completes a futures trading (any trading pair with any amount) will receive a 30USDT airdrop bonus.

3. Rewards for sharing posters:
Share the event poster on any social media or your community, we will airdrop you a 20USDT bonus reward.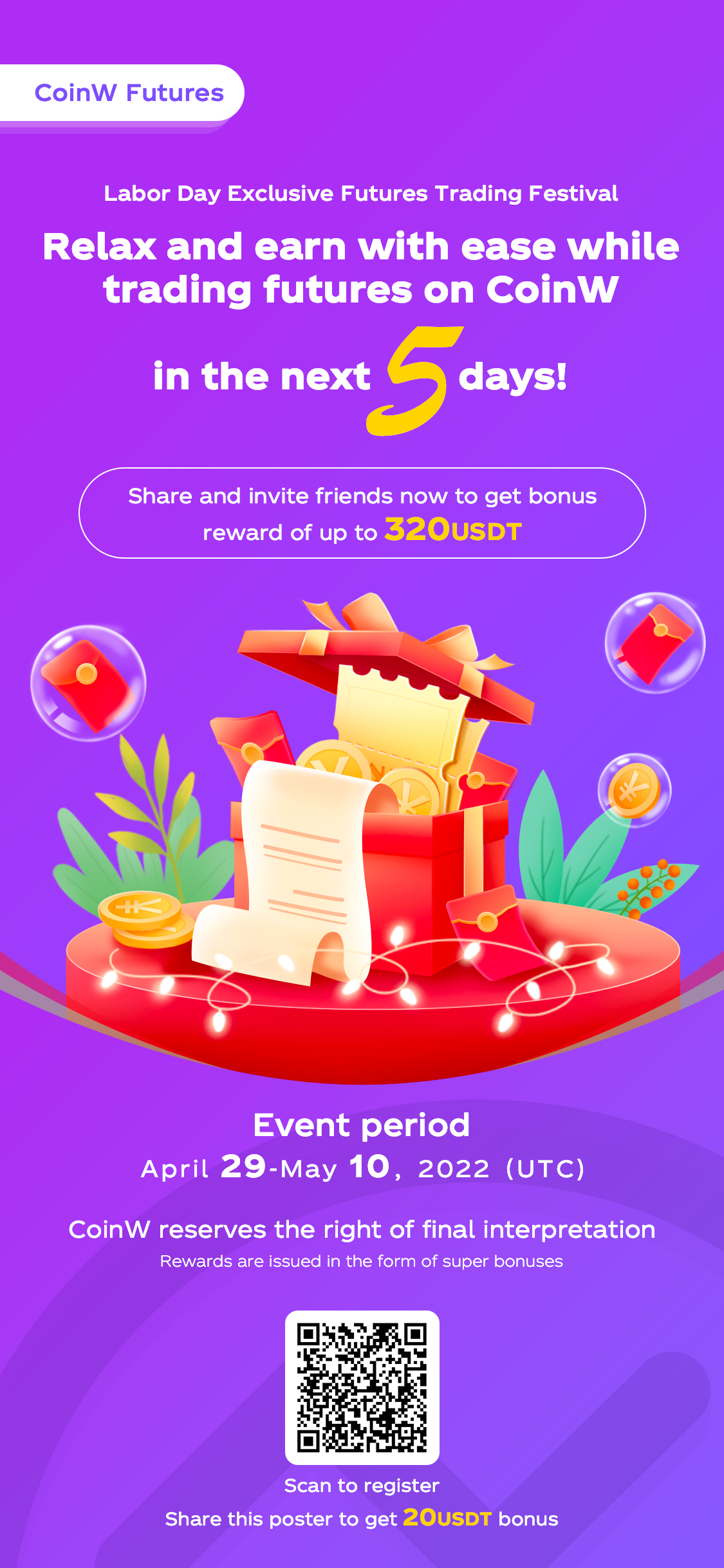 Note: Trading with the super bonus is NOT included in the futures trading mentioned above.


Eligibility:
All active users, but new and old are eligible to participate
Click here to participate


Event period:
16:00:00 April 29, 2022 - 15:59:59 May 10, 2022(UTC)

Happy Fest to all Users
Notices:
1. Click to view Super Bonus Introduction.
2. The super bonus rewards will be issued within 3 working days after the activity ends.
3. Limited to 5000 users, first come first served
4. To ensure fair and just of the activity, and avoid cheating or other malicious behavior
that affects the normal operation, CoinW has the right to disqualify the user, or even
freeze the user's account immediately.
5. CoinW reserves all the rights of final interpretation. If you have any questions, please
contact CSR.
CoinW Website: https://www.coinw.com
CoinW Download: https://www.coinw.com/mobile/download.html
CoinW community now covers WeChat, QQ, Twitter, Telegarm and other social media, reaching hundreds of thousands of members. It supports 7*24 real-time communication with users at home and abroad. Welcome to join the CoinW community.
Twitter: https://twitter.com/Coinw_exchange
Telegram: https://t.me/CoinwExchangeEnglish
CoinW International
April 29,2022