CoinW has now opened credit card payment services in many countries or regions around the world to help users to use fiat currency to purchase crypto currency. The Visa credit card supports fiats including U.S. dollars (USD), euros (EUR), and British pounds ( GBP).
1. Log in to the CoinW account and click "Buy Crypto" in the menu bar on the top of the homepage
2. Select the "Coin" amount, "Legal tender" and "Payment Method" of the way you want, and click the "Order" button to enter the checkout page.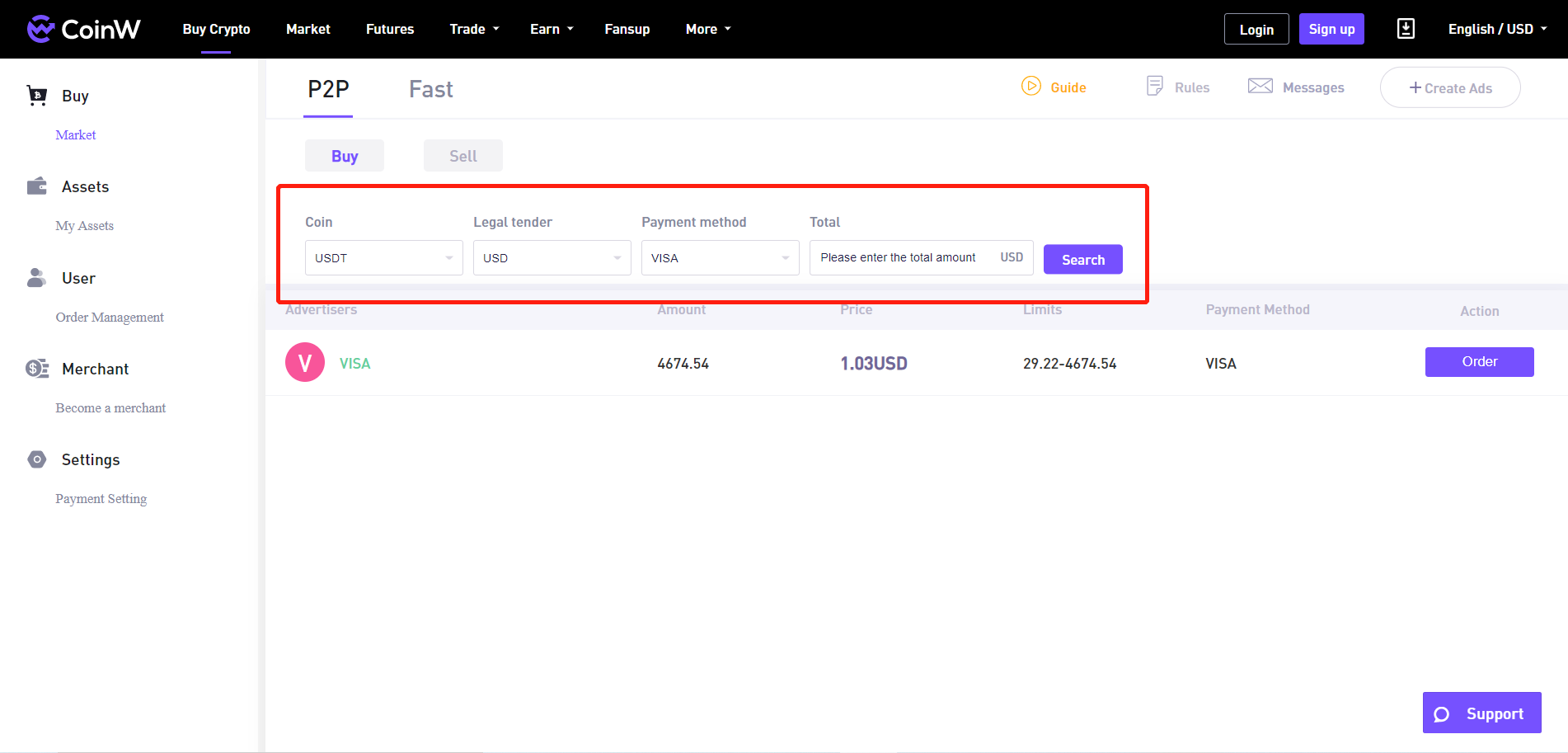 3. On the checkout page, click the "Buy" button to make the payment.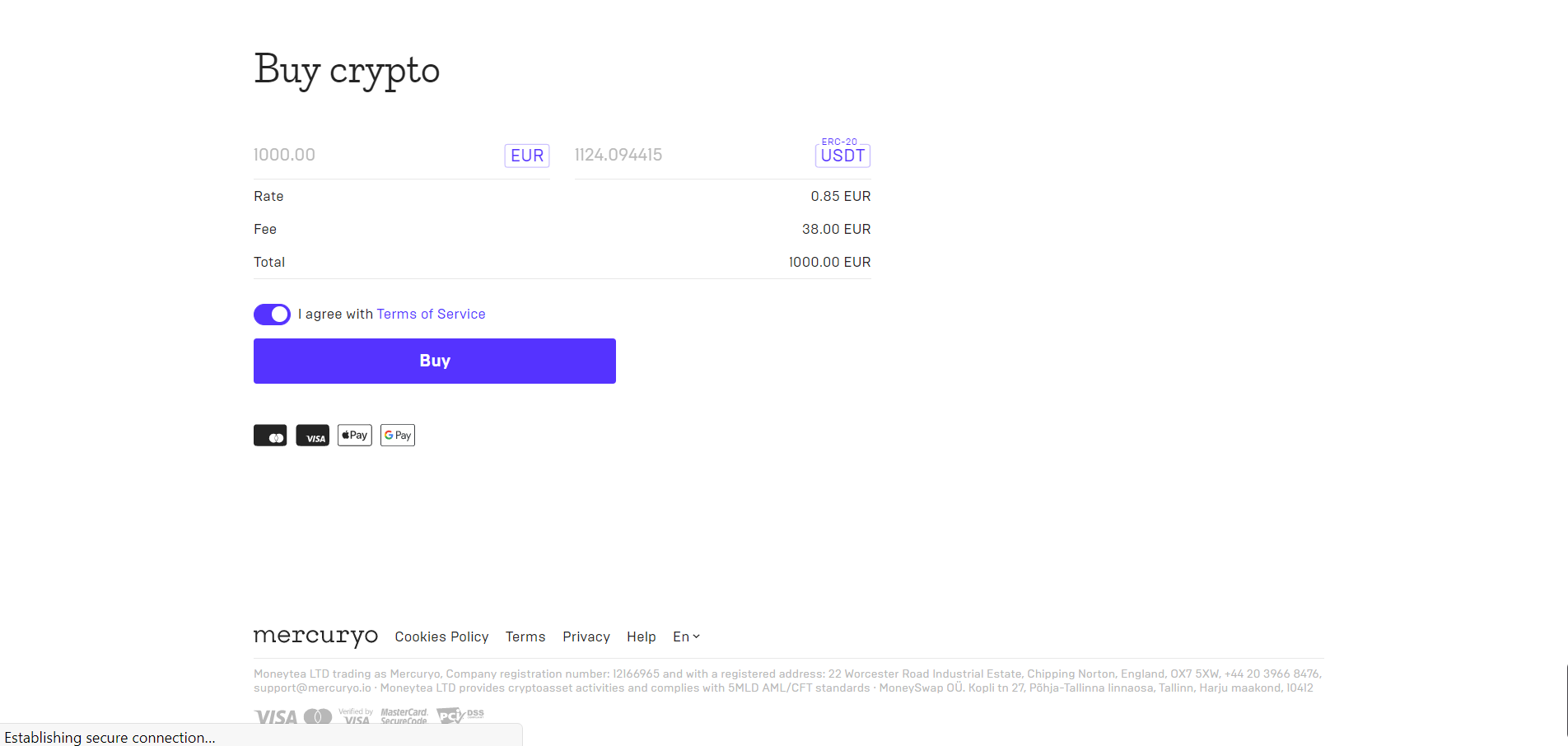 4. After payment is completed and the identity verification is passed, you can receive your cryptocurrency purchased.
In order to ensure the smooth receipt, users need to conduct identity verification (KYC) with a third party service provider. Once successfully verified, the service provider will immediately make the relevant transfer and issue the crypto currency into your CoinW Asset account.
1. Is there a minimum/maximum limit for the purchase?
Yes, the limit for a single purchase will be displayed in the amount input box.
2. How many legal tenders does it support?
AUD (Australian Dollar), CAD (Canadian Dollar), CZK (Czech Krona), DKK (Danish Krone), EUR (Euro), GBP (British Pound), HKD (Hong Kong Dollar), NOK (Norwegian Krone), PLN (Zloty) , RUB (Russian Ruble), SEK (Swedish Krona), TRY (United States Dollar), USD (United States Dollar), IDR (Indian Ruble), JPY (Yuan), UAH (Ukrainian Givna), NGN ( Nigerian Naira), KES (Kenyan Shilling), ZAR (Southern Rand), GHS (Ghanaian Cedi), TZS (Tanzania Shilling), UGX (Uganda Shilling), BRL (Brazil Real)
3. Will there be a fee for the purchase?
Most service providers charge a certain fee. For the actual situation, please check the official website of each service provider.
4. Why I haven't received the coins?
According to our third-party supplier, the main reasons for the delay in receipt are as following:
(a) Failure to submit a complete KYC (identity verification) file at the time of registration
(b) The payment is unsuccessful
If you have not received your cryptocurrency on the CoinW account within 1 hour, or if there is a delay and you have not received the cryptocurrency after 24 hours, please contact the third party provider immediately, and go to your email to check the instructions sent to you by the service provider.
5. Are there any countries that prohibit the use of this service?
The following countries are forbidden to use this service: Afghanistan, Central Republic, Congo, Côte d'Ivoire, Cuba, Ecuador, Asia, Iran, Iraq, North Korea, Libya, Mainland China, Libya, Panama, Rwanda, Somalia, South Sudan, Sudan, Ukraine, Croatia, Yemen and Zimbabwe.
6. Can I choose to deposit legal currency that does not belong to my country?
It depends on whether the third party service provider accepts your KYC, please check with your chosen service provider for more details.
7. How to contact Mecuryo's customer service?
The best way to contact Mercuryo customer service is:
(a) Send an email to support@mercuryo.io
(b) Through their online chat on the web (the icon at the bottom right).
US Dollar, Euro, British Pound, Nigerian Naira, Kenyan Shilling, Ukrainian Hryvnia, South African Rand, Indonesian Rupiah, Ghanaian Cedi, Tanzanian Shilling, Ugandan Shilling, Brazil Real, Turkish Lira, Russian Ruble
Statement:
The service providers are a fiat and crypto currency trading platform independently operated by a third party, and all related services are provided by them. For any questions about the transaction, please contact the service provider's customer service. CoinW shall not be liable for any loss or damage suffered due to the use of this service.